Tel:0086 29 89196049
Mobi:+86 17342318735 +86 18089264518
Add:Constellation 11107 Oak
Technology 5th Road, Xi'an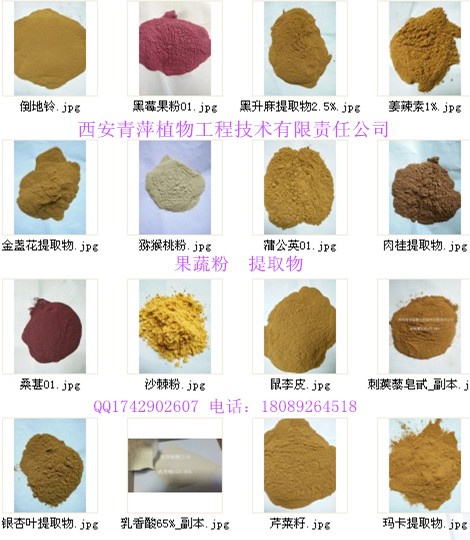 Views:4578 | From:xi'an Qingping Plant Engineering Technology Co., Ltd.
[ product name ] Epimedium flavones
【English name 】 Epimedium P.E.
Latin name Herba Epimedii
[ source ] this product is Berberidaceae, plants of Epimedium Epimedium sagittatum, Epimedium Epimedium epimedium, Wushan or the overground part of the dried.
Summer, fall when stems leafy cut to remove coarse stems and impurities, dried in the sun or shade.
the effective content of Epimedium Flavonoids
the quality standard of
Effective component content of flavone:10% ~ 80%
The use of plants: the part on the ground
Color : light yellow to brown
Appearance: Powder
Size:80.
Smell: special odor
Method: HPLC
Loss on drying: < 6%
Ash: < 9%
Heavy metal: <10PPM
Pesticide: <2ppm
Microbiological criteria
The total quantity of bacteria: <1000CFU / GM
Escherichia coli were not detected
Salmonella not detected
Mould and yeast <100CFU / GM
functions mainly contains flavonoids, it can invigorate the kidney yang, strong bones and muscles, but the wind and dampness, lowering blood pressure, inhibition of Staphylococcus aureus occurred, for sexual impotence premature ejaculation, rheumatic paralysis, numbness and, climacteric hypertension. Epimedium can increase cardio-cerebral vascular blood flow, promote hematopoietic function, immune function and bone metabolism, has anti-aging, antitumor effect.
Preservation
In a cool and dry, avoid light, avoid high temperature.
the shelf-life
Two years
Packaging
With double plastic bags, aluminum foil bags or cardboard drums for external use (25 kg / barrel ).